JABRA GN 9120 (9120-28-01) Беспроводная гарнитура для стационарного телефона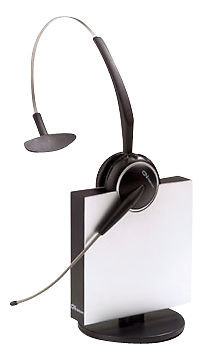 Беспроводная гарнитура Jabra GN9120 Flex NC Microphone предназначена для офисов с открытой планировкой. Гарнитура с беспроводным радиусом действия 300 футов обеспечивает возможность выполнения разных задач во время разговоров по телефону. Благодаря функции шумоподавления клиенты услышат только голос сотрудника; с которым они разговаривают и ничего более.
Jabra GN9120 GN Netcom FlexBoom Business Wireless Cordless Headset - Very Clean
The GN Netcom 9120 is the future of executive telephony. With the GN 9120, you can roam up to 300 feet from your desk, giving you the freedom to multi-task and share ideas with other people in your office without interrupting important calls. The GN 9120 is equipped with a multi-unit conferencing feature, allowing you to create wireless "virtual conference rooms" for up to four people. And to keep calls secure, it uses digital spread spectrum technology created for military applications, with signal "hops" 90 times every second to eliminate eavesdropping. The GN Netcom 9120 weighs about 1 oz. and comes with a battery that offers up 8 hours of talk time.
Key Features:
2.4 GHz, Multi-layered security system prevents eavesdropping.
Digital Spread Spectrum signal, originally developed for secure military communications, hops 90 times per second for airtight security.
All calls are protected by 64-bit encryption.
Smart Power Management limits range of transmission for additional security.
Next-generation wireless technology lets you roam up to 300 feet from your desk.
Fully rechargeable battery is easy to replace and provides up to eight hours of talk time.
Optional GN 1000 RHL remote lifter for remote answering.
Flexible noise canceling microphone
Convertible headset over-the-head or over-the-ear
JABRA GN 9120 (9120-28-01) Беспроводная гарнитура для стационарного телефона отзывы
Оставьте отзыв об этом товаре первым!